Episode 5: Raghu Kamath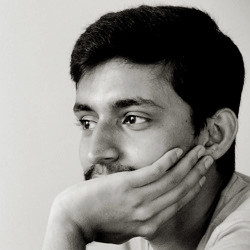 Have you ever wondered about the viability of using Free Software tools for your graphic design, illustration and art needs? Have you tried out Gimp or Krita and given up because they looked very daunting? Are you searching for a reason to stop using proprietary software for your design needs?

In this episode, Raghu Kamath walks us helps us understand why he chooses to use Free Software and GNU/Linux for all his design work, how it helps him, how he got started and how you can make a similar choice as well. He offer compelling arguments about why freedom is important and how the sense of belonging to the community inspires and supports him.
Raghu Kamath is an illustrator & designer living in a suburb of Mumbai, India. He uses Free Software for all his illustration and design and advocates the use of such tools to other designers as well. You can get a glimpse of his work on his website: https://raghukamath.com/
---
Transcript
[00:00:01]
[Abhas]
Welcome, Raghu.
[Raghu]
Yeah. Thank you.
[00:00:04]
[Abhas]
I actually loved your talk yesterday. It was the first time I was listening to someone talk about art entirely with free software using a wealth of the tools that we have, and someone doing it on a commercial scale, not as a hobby. So tell us about your work first? What do you do or what is your work about?
[Raghu]
Thank you for having me here. I do graphic design and illustration. When you say graphic design and illustration, these involve illustration for the advertisement, the advertisement that you see on the newspapers, be it the illustration for the packages, all those products you buy in shop, those have some illustrations. There are some mascots like a company, brand identity. All those stuff I do it for ad agencies and other enterprises like, for example, I did a calendar for Axis Bank. So, all these stuff, like these are included in my work. I also do like I am a fan of comics. So I work with the Amar Chitra Katha to color comics, and do some comical stuff. So yeah, this is the general range of work.
[00:01:24]
[Abhas]
So did the art come first or the technology?
[Raghu]
I guess, it is art, because like for me or for?
[00:01:33]
Abhas
For you.
[Raghu]
Yeah. For me it is art because when I joined an art college, in our curriculum, there is no computer used. So we actually got to use computers in the fourth year that too in the last semester of the thing. So I am fortunate that it was that way because you get to know the theory, and you get to know the basic principles of art without getting spoiled with the convenience–
[00:02:06]
[Abhas]
Convenience.
[Raghu]
Yeah, that you have. So that helped me because I always see everything as a tool to create an art. There is no convenience. If there is a way I like to do it, be it like it can be hard, like you can create art with carving out wood, and making imprints, and then you can make prints. So it is really a time-consuming process, but the satisfaction it gives, so that's what matter. So computer came at a later stage. It is just a tool to get the art done in a faster way. That's what I think about it. So I don't think computer rules art or computer come first from art.
[00:02:55]
[Abhas]
But today it is sometimes very common to find people who define their art by the computer or the tool they use, not by the thought behind that art, right? Like you said, the thought comes first, and then the computer is just a tool to implement it.
[Raghu]
Yeah.
[00:03:10]
[Abhas]
But many people today, they rely on the tool as an end in itself, right? So what is your take on it?
[Raghu]
I guess, they shouldn't do it because ultimately, you are conveying some message be like maybe it's a movie, maybe it's a poster or anything. Even, even if it is a writing on some wall down the street, it is an art. It should convey something. And if that message is conveyed properly to the person that is supposed to be conveyed, then that art is successful. Limiting yourself to a tool is like limiting your scope of improvement. You are just with the tool, and when that tool goes out of fashion, you yourself go out of fashion. So you always — maybe there will be something bigger than computers in later stage. There can be art created with VR. You can do all the crazy stuff with wearing the headset. So it can be anything. You should really find art in everything, because if you are a comic fan, when you walk down the road or when you do some daily stuff, you should see frames of comic everywhere, like everything is composed, and you should just observe. And limiting yourself to a tool, that makes your point of view very limited. You find yourself creative only when you sit in front of the computer or only when you do Google research or stuff like that. So I think they shouldn't do it that way. They should really open themselves up to the world, and think of it is in a larger perspective. Yeah.
[00:05:06]
[Abhas]
Yesterday, in your talk, you mentioned that when it comes to art, the customer is not really bothered about how you did something. It's the end result which matters to them.
[Raghu]
Yeah. Yeah.
[00:05:14]
[Abhas]
But for you, who is a creator, the tool can be an enabler in a way, right? So if you contrast your work when you might have been using proprietary software and now that you use all these free software tools, how has software freedom enabled you? What are the different ways in which it has enabled you? I'm not talking about it just from the technical perspective, but from the way you work, your work flows, or your ability to do better work for customers, better according to your standards?
[Raghu]
Mostly, thanks to the handwork that I did in the college. Mostly, it is the same, and I don't feel that my work has become faster or slower from the earlier days when I used proprietary software, but the sense of community and collaboration is more in this. And earlier when I did like when I used proprietary softwares, everybody is using proprietary software, and you don't feel unique. Okay. And now when I do this stuff with a free software and the thought of free software that I like learn more and more daily, there is a sense of community in my thought process. When I do something, I share it with others. I get feedback. And the important thing that I learned from using free software is, which I earlier didn't know, is earlier I did something. I kept it to myself. It was like art done for myself, but I feel — now I feel that art is useless unless it is observed and enjoyed by others. And by keeping it to yourself, not sharing it, you are limiting your audience. So now I share my artwork more like liberally, and I try to get feedback from all, like from every person that I can get feedback from. So it helps me shape myself. It helps me think from their perspective, how they perceive, how they think that this could have been done. And in return, I get to improve myself. Earlier it was that only I or the client will evaluate the art that I have done, and that's it. But now I broaden my scope of audience and get more feedback, and I get more chance to improve.
[00:07:58] Abhas
So, why is a sense of community and collaboration important to you personally?
[Raghu]
Because like I said, I get more feedback, and there might be a way, which I couldn't think of like suppose there is one message, which I should draw, which I should convey by drawing, I might think of one way. When I share it with others, the person can come up with some other idea, and so he may improve the way, improve the execution, or improve it in any way that I couldn't have thought earlier. So this leads to development of both persons. So this matters. This really matters today. It really speeds up your improvement. It's not just you practicing single handedly, like to practice in a sport, you have to be with the team, right? You can't practice cricket at home.
Yeah. So that is the difference here.
[00:09:01]
[Abhas]
So, you know, what I see is that you have this hunger to keep growing.
[Raghu]
Yeah.
[00:09:05]
[Abhas]
And in a way, you can't grow as much if you use proprietary software. So if you have learnt or grown as much as you could with proprietary software, you are not finding any room to grow, and maybe crossing the [indiscernible 00:09:18] to the world of free software is a way or limitless growth. Do you think that way? And is that the reason why a lot of artists don't adopt free software because they're not looking at growth from the same way as you are?
[Raghu]
No, I don't think they are doing this purposely. Partly, I think they don't know the free software movement, the idea behind it. They don't understand the collaborative thing. To give you an interesting thought, I was talking to some student down stair, and he was asking me how you will collaborate with others when your file is in PhD and like the person who you are collaborating with can't open it. I said that you are limiting him from collaborating with you. The tool shouldn't be a hindrance. You are just saying — you are just forcing him to buy, purchase something and use that software to collaborate with you. This shouldn't be the case. We should collaborate easily without limits. So this important point they don't know yet. I guess, by spreading awareness, and giving them the actual reason to collaborate, then we can improve, like maybe we can change their point of view. So the problem is they don't know about free software, and the movement, and collaboration, and such thing. They are going linearly now. So one person works, then other person takes that file, and he works further, and it goes on. There is no back and forth from two persons.
[00:11:04]
[Abhas]
So when you collaborate with others or you share your work publicly, what sort of licenses do you use? What are the terms under which you share your work?
Raghu
Yeah. For my personal artworks, I use CC-BY. It can be shared, reused. For some artworks, I put a restriction on sharing it commercially. It is free to use for non-profits or anybody, but you can't take commercial benefit from it. The only thing I say is you have to give proper attribution. That's it. Even then I don't believe in licenses because once you put your artwork on Internet, it can be shared with anyone. I just request them that they should at least give an attribution. For a work that is not mine, like for the work that is commissioned, I am hired to do that work. I don't own the copyright, and I don't own the work itself. So those artworks are under the license, like whatever the client chooses. He may choose it to be CC0, or CC-BY or anything. So it depends on him because in a way he's also a collaborator with me. He is also — he has put his thoughts in it. So I can't decide the licenses. So in that case, we both agree, and maybe we can share it earlier or later. So we decide the licenses that way. For my personal artwork, I share it in CC-BY.
[00:12:32]
[Abhas]
So when you are having discussion with a client who doesn't really know about all these licenses where you tend to keep certain rights of your artwork.
[Raghu]

Yeah. I always put it in my initial discussion. I ask the client that while you pay me, I will certainly transfer the right to you, but I need some right to showcase the artwork say that this is done by me, and maybe use it somewhere in my personal website or personal advertisement thing. So, generally, they are okay with that. So for them it doesn't matter actually. Yeah. And when I share the licensing page and all, their general response as usual is, "Okay, I can't understand this. Do whatever you want." So yeah.
[00:13:26]
[Abhas]
And have you ever tried to broker them giving public credit to you?
[Raghu]

No, they usually do it, because they don't hide the fact that I did the work. At least the client that I have worked with, they don't hide the fact that I did the work. So I'm grateful for that. But there is like there hasn't been a situation where I needed to ask them to give my credit.
[00:13:53]
[Abhas]
What about situations where you have modified an existing artwork for use to the customer? What sort to interesting situations have arisen from that, so it makes your job better or easier sometimes? And has the customer — and finally, it's the customer's benefit as well.
Raghu
Right.
[00:14:12]
Abhas
Right? So have you been able to explain this reuse aspect to the customer and then press upon the whole ecosystem to them?
[Raghu]
Yeah. I tried to do that, but most of the customers couldn't understand the attribution thing. And whenever we use some parts of some other's work, we have to give them proper attribution, like it should be visible, and that sort of thing is not possible in advertisement artwork. So we try to avoid reusing other's work. But on my personal artworks, I try to use, reuse things whenever like I find it difficult to or when I find an artwork that may go well, and I always attribute to that person. So in client work, there hasn't been such a case.

[00:15:10] [Abhas]
So, again, there are two types of sharing. One is that you share the final outcome of your work. One is that, and that work would also have source. So you have layers, and you have the — so you might share the bitmap, but you have — you write [indiscernible 00:15:25] part of it. So when you say share, what are you sharing? Are you talking about the outcome or also the source code, because source code could tell someone, educate someone about how you have done it?
[Raghu]
For my personal artwork, I share the original file too. For the artworks that are done for the corporate, I share the file with the client only. I can't share the file with the others because if I share the files to the public, then maybe some other corporate entity may use it, and use it against the original owner. So, yeah, for my personal artworks, and tutorials and stuff that I do, I always share the original file and also the outcome. So, yeah, they are there on my website so that you can inspect them or you can ask me any question based on them. Yeah.
[00:16:20]
[Abhas]
Okay. So, again, in the art world, especially, digital art, you have these websites, which have stock photography and the stock icons, and they even sell you vector art, which can be scaled up, and changed and so on. But the licenses for a lot of these things are very restrictive.
[Raghu]
Yeah.
[00:16:38]
[Abhas]
Apart from the cost aspect, it's the licensing aspect, which is very unfair sometimes.
[Raghu]
Yeah.
[00:16:47]
[Abhas]
What can be done about that? Do you think there should be a community movement to create a similar resource but without the restrictions?
[Raghu]
Yeah, there is actually. There are some sites which provide CC-CB resources. One such site is Pixabay.com. It provides a public domain. It also provides a like paid artworks, but it also has a, I think, it has the largest CC0 stock imagery, like found on the Internet. There is also Wikimedia Commons, which should be, like they should be — they have done a really commendable job in collecting all the free culture-based materials. And there are certain other sites that like Flickr or some other websites, which allow the content creator to specify the license, and you can search, and you can get such images there. So the only problem is that these sites are not that known outside the free culture camp. And also the restriction for using public domain or a free culture image in the commercial artwork keeps this thing away from the commercial artist industry. So it is mainly based on original artwork. So even if we want to use some artwork in client work, the client may not accept it. He would say it would complicate our contract and this and that. So maybe they would have to do a contract with the original author also. So they don't go into that area. So, yeah, there are certainly sites which provide free culture images and artworks. So you just need to like search and find them. Yeah.
[00:18:53]
[Abhas]
So which other parts of your life has been impacted by free software [indiscernible 00:19:00]?
[Raghu]
Yeah. Another concept that I'm really looking forward to is education because I think that now my house doesn't have any proprietary operating system, but I guess in future when my child or my son goes to school, he would be using a proprietary software. So I would be forced to use that software at home. So I guess that part somewhat affects me now. So I'm really looking forward to working with people who are like wishing, who are planning to introduce free software in schools. Part of like our local Linux user group does that awareness, and talks to the school, but the change needs to be done from the government side. The curriculum is not changed. So we can't really go and like talk to school. When we talk to school, they always cite that the curriculum has screenshot and photographs of proprietary software. So they can't teach students something else and the books will have something else. So this is one part that I'm really worried about. So, I guess, my like apart from doing artwork, my other goal would be to get free software in education, and also that will be a good way to bring more common people to free software, and not just evangelize and just like write some blog post or things. Doing this will improve the quality of education too so that our future generation are like more — like they get trained more in collaborative and like the thought of freedom and all such things. Yeah.
[00:21:12]
[Abhas]
So what advice would you like to give to other artists?
[Raghu]

It's a generic advice. To improve your art skill, you have to just practice. There is no shortcuts, and tools are just tools. It's only your creativity in the head that limits you. It is not the tools. There is no such thing as you can't do certain artwork. If you wish to do it, you will find a way to do it. You just need some open mind, and some calm place to think, and put your thoughts on paper. I guess, don't be stuck in all this computer jargons or something else. Use whatever you feel comfortable. I am not saying that use only this software, but also ask yourself a question like am I using the correct tool or am I using — am I doing this right? be collaborative with others. That will help you improve more faster and more — achieve your goal more quickly. Yeah.

[00:22:27]
[Abhas]
That's an amazing message.
Raghu
Yeah.
[00:22:28]
[Abhas]
So where can people find you on the Internet? How can they contact you?
Raghu
You can go to my website at raghukamath.com. You can also search Raghu Kamath on Google. You will get my blog or something like that. Yeah. That is–
[00:22:44]
[Abhas]
Thanks a lot.
Raghu
Yeah. Thank you.
[Abhas]
I really hope your message inspires people to look at that and free software definitely.
[Raghu]
Yeah. Thank you.
[Abhas]
Thank you.
[Raghu]
Thank you for having me.
---